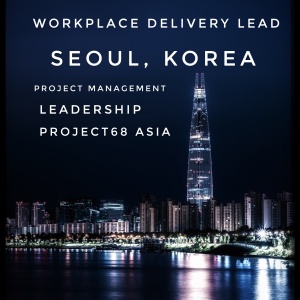 Senior Project Management Lead – Client Side – Korea
Our client provides the space, the community and services to transform buildings into beautiful, collaborative workspaces, by providing infrastructure, services, events and tech so their clients can focus on doing what they love.
The Project68 team is delighted to support our client as they undergo significant growth within the APAC region. We are looking for a seasoned design and construction management professional, to manage internal and external teams to oversee the successful design and build-outs of new office locations throughout South Korea. As a seasoned Project Manager you will already have experience managing teams of architects; designers, logistics leads, and construction leads, to ensure that projects are delivered on time and on budget. You shall have experience at various stages of development including but not limited to due diligence, bidding, contract management, people management, etc.
This is a really exciting opportunity for a Design & Construction professional to step in to a client side role. With a great team already in place and huge growth plans for the region, this is not a role for the feint hearted, but you will be rewarded by being part of a collaborative and supportive, mission and value driven organisation. Individuals with a growth mindset and a desire to be part of something truly unique are invited to get in touch to share your experience with our recruitment team.
Who You Are:
Passionate about best in class design, construction and project execution
You love development (real estate, design, numbers, schedules, everything)
Love to think outside the box and explore new ways to execute projects
A team collaborator, clear communicator, prudent risk-assessor, and effective motivator
Qualifications:
8+ years of experience of all phases of the design process from schematic design through the bid process and construction management
Bachelors Degree in Engineering, Construction Management or Architecture
Familiar with construction industry best practice and up to date building codes
AutoCAD/drafting and able to draw construction details
Experience in retail and commercial construction/development is preferable
Experience with all aspects of real estate development process from due diligence, financial modeling, permitting, site feasibility, contracting, construction methods
High level of adaptability within a fast-paced dynamic work environment
Ability to function and navigate within a complex matrix organisational structure
Effective collaborator and team player
Impeccable and concise communication and presentation skills, verbal and written
Has management experience leading, mentoring and guiding teams
Open to feedback, with optimistic and positive attitude
Strong project management skills and ability to consistently meet deadlines
Travel up to 50% of the time
Responsibilities:
Overall quality, budget and schedule for project
Full process oversight of project team
Manage multiple projects at a time and prioritise workload within the group to ensure that project timelines are met.
Responsible for the project from the moment the space has been identified through the opening and handoff to facilities
Able to keep the team focused on the task at hand
Handle multiple projects at any one time in various stages and shall be able to work in a fast pace environment
Ensure project team is adequately resourced to achieve project goals
Serve as primary point of contact for all extended and external project team members
Substantial involvement during Due Diligence and Layout to understand lease terms, develop estimates and initial budget, and secure necessary approvals
Substantial involvement during Documentation and Pre-construction/Bidding to secure access agreements, finalize budget, award contracts, and release construction
Substantial involvement during Construction, Staging and Closeout to ensure construction completion and final accounts
Being Successful?
Be a Positive Influence – Become a positive influence within your region and beyond by always carrying yourself in a professional manner
Be optimistic and help others do so as well. This applies to the team and consultants.
Manage a cross-disciplinary design team that includes architects, interior designers, BIM specialists, MEP engineers, ICT engineers. etc.
Proactively flag any issues that may arise during a project, take ownership of them, and work together with your team internally to resolve them
Communicate regularly to management and the project team with project updates such as the status of each project, upcoming benchmark goals, potential issues, etc.
Inspire project team to achieve goals through effective leadership
For a confidential discussion, please contact Gemma Keogh-Peters via Linkedin or gemma@proj68.com
Project68 Asia – Singapore EA Licence
16S8425 / R1434012