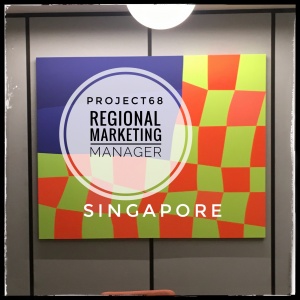 Regional Marketing Manager – Singapore
Our client is a global leader in delivering workplace professional services to corporate occupiers. Their client list is one of the most diverse, encompassing FMCG, Technology, Hospitality, Pharma and Financial Services. A true leader in their field and recognised for excellence, they are one of Fortune's most admired companies.
About the Role
The recruitment team at Project68 is delighted to support our client as they look to build a new dedicated marketing and communications team, to add to their growing regional platform. This is an excellent opportunity to be part of a new team, whilst enjoying all the benefits and support of experienced leadership. You will be set up for success.
This is a Singapore based role, but will be a dedicated regional resource to the APAC business, providing Marketing expertise for Pacific, India, Greater China, Japan and South East Asia.
As a Marketing Manager, you will be responsible for the regional Marketing function working directly with the Head of Marketing & Communications (Marcomms) for APAC. The position is primarily responsible for brand management, in keeping with the company's global marketing guidelines and in developing the regional marketing approach. The position is also responsible for supporting business line marketing and communications activity primarily for South East Asia, and other locations as required.
The role includes: (but is not limited to)
Driving the Marcomms offering for the APAC business with direction from Head of Marcomms – supporting the development of business marketing strategy
Implement marketing strategy across APAC, with specific ownership for SEA activities, working with: – communications, design, digital marketing, and pitch management
Drive brand recognition and ensure consistency of collateral/promotional materials/brand activities – adhering at all times to brand guidelines
Effectively manage budgets, working with internal stakeholders to ensure buy-in
Drive greater client interaction through a structured program of events & touch points as captured in an annual calendar detailing target industry events, forums, events
Support the development and coordination of and divisional communications (internal/external) strategy and execution, also working closely with regional communication specialists
Support the development and roll-out of engaging, integrated multi-channel campaigns in line with research programs; maximizing opportunity to align; cascading outputs regionally to internal & external audiences
Be recognized as a Creative and Specialist in delivery of marketing solutionsResponsibilities:
Develop communications plan, covering media relations, client and internal communications for special projects and other business requirements
Plan and implement Marcomms processes and initiatives throughout Asia
Track Marcomms activities, demonstrating link between activities and results
Develop awards program and strategy and coordinate/write submissions
Assist with design and management of CRM activities, e.g., client events; corporate merchandise, etc.
Develop strategy/tactics to clients using existing vehicles, campaign logic and new approaches
Develop and manage digital marketing strategy across Asia Pacific, including web, Twitter, etc.Required Knowledge & Skills:
Demonstrated ability in delivering results – requires skills of a hands-on marketer, with strategic insight
Demonstrated experience in a broad marketing role in advertising, property, financial or professional services
Fluent in all aspects of the marketing – brand, media buying, digital, print production, web, outdoor
Highly organized, with strong attention to detail, strong project management skills and flexibility to adapt to changing priorities
Strong writing and editing capabilities, specifically business writing, executive communications, creative writing
Client focused, demonstrating ability to provide quality service and advice within Marcomms arena
Sound decision-making capabilities, demonstrating an ability to create persuasive and compelling recommendations
Ability to communicate and influence at all levels within the organization with excellent presentation skills
Creative thinker with ability to implement regional process in varying Asia markets
Intermediate to advanced level in Microsoft packages –Word, Excel and Outlook. InDesign an advantage.
Experience & Qualifications
University level education in a relevant field i.e. marketing, communication, public relations, economics or commerce (experience in property industry an advantage) or Professional Marketing Accreditation e.g. CIM/CMMP
6 years+ experience in marketing management in a service-related industry
Presentation skills and ability to influence stakeholders
Superior digital innovation experience
Writing skills and ability to edit existing writing
Strong knowledge of major Asia markets would be an advantage
For a confidential discussion or to apply directly please email Gemma Keogh-Peters / Project68 Asia Pte Ltd / EA Licence 16S8425 / gemma@proj68.com