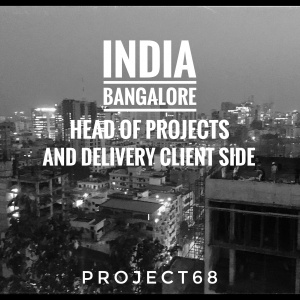 Regional Head of Project Delivery – Bangalore, India
The Project68 team is delighted to support our client as they undergo significant growth within the APAC region. This is a key hire for the business, reporting into the India CEO and the US based global head of projects. As a commercial, high-end construction delivery specialist, you will oversee a growing regional portfolio of design and construction projects in India, based out of Bangalore.
Our client provides the space, the community and services to transform buildings into beautiful, collaborative workspaces, by providing infrastructure, services, events and tech so their clients can focus on doing what they love.
As a senior Director, overseeing all new and existing fit-out projects, you will have the commercial experience to know when to think strategically, to optimise the delivery process and be comfortable being task focused. Delivering projects to the highest standards whilst empowering your project team to execute, will be key to your success. As a new business in the region, with a premium emerging global brand, this is a unique opportunity.
Primary responsibilities include:
Managing all aspects of the project life-cycle, from due diligence to closeout
Managing a large and diverse team including construction managers, project managers, cost managers, operations specialists and procurement specialists
Working closely with design and creative teams
Evaluating regional objectives, maintaining staffing, providing employee motivation, and analysing process effectiveness
Liaising with both regional and global corporate leadership to evaluate progress towards regional and global objectives ensuring that teams implement exceptional project delivery strategy to meet them
Provide leadership, coaching and mentorship for staff development
Evaluating resource allocation while managing both internal and external partner relationships to ensure optimal project approach
Collaborate with sales, real estate, building operations and other internal functions that are required to maximise membership experience
Qualifications:
Bachelor's Degree  in Engineering, Construction Management or Architecture
About you:
High level of adaptability within a fast-paced dynamic work environment
Adept problem solver that is quick on their feet whilst maintaining a strong focus on goals
Experience working for a developer or fast paced construction management firm
15-20 years of real estate and construction development experience, having executed in a multi-market setting
Ability to function and successfully navigate within a complex matrix organisational structure
Strong leadership skills with ability to function tactically with trades but also comfortable with senior level presentations
Ability to build relationships cross spectrum
Experience managing all aspects of the real estate development process from due diligence, financial modeling, permitting, site feasibility, contracting, construction means and methods, operational turn over
Effective collaborator, delegator and team player
Open to new and innovative technology designed to optimise the development process
Experience leading large teams (greater than 15 people)
Reporting Lines:
Direct reporting to Global Head of Project Delivery with dotted line to Regional CEO
Direct Reports include: Regional Director of Project Delivery, Regional Director of Design, Regional Construction Director
Peer Group within region includes Regional Head of Real Estate, Regional Head of Building Operations
If this sounds like an opportunity that you wish to be considered for, then please apply with a covering message, or for a confidential discussion, please contact Gemma Keogh-Peters at Project68 Asia via Linkedin or email gemma@proj68.com EA Licence 16S8425