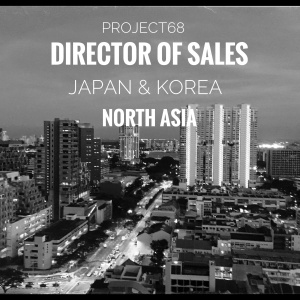 Director of Sales – Japan & Korea – Global Firm
Our client is a leader in their field and a global provider of commercial property data and analytics.
The Project68 team has worked very closely with this client since they launched their Singapore office in 2016. We are proud to continue to support them as they strengthen their Asia team. In this newly created role, which will be based in either Seoul or Singapore, the North Asia Sales Director will play a key role in contributing to the firm's continued growth across Asia-Pacific. 
The North Asia Sales Director will be responsible for direct sales within South Korea and Japan, which includes generating new business and where needed, increasing existing business
The ideal candidate is a hunter who likes making sales calls
This position is tasked with qualifying incoming leads, generating prospects via industry conference attendance/participation and targeted email campaigns and networking with senior decision makers and prospective clients
It will require a rapid learning curve, but full training and support will be given as will extensive training in New York and London
Current clients include: 
Listed property companies and Real Estate Investment Trusts; Property Investors & Owners; Insurance Companies; Asset Managers and Private Equity Funds; Commercial and Investment Banks; Commercial Agency / Brokerage Firms; Appraisers; Developers and Operators.
Skills essential for success:
Fluency in either Korean or Japanese is essential, with a working knowledge of the other language and an ability to communicate in English;

 

Strong strategic selling and closing skills with the ability to develop client relationships through consultative sales efforts;

 

Demonstrated ability to develop and manage sales effort as it relates to building and managing a pipeline of potential revenue;

 

5-7 years of experience selling either – research, data, analytics, information services;

 

Proven track record of breaking new business and meeting/exceeding revenue goals;

 

Experience tailoring and executing remote software and product demos to prospects using Webex or a similar 3rd party remote web application;

 

Outstanding oral and written communication skills; Polished presentation skills;
Strong negotiation and interpersonal skills; Positive attitude, enthusiasm, high energy, sense of humour; Comfortable working in fast growing, rapidly changing environment; Self-directed; Ability/willingness to travel; A university degree is desirable.
Experience with recurring subscription based revenue model is a plus;
This is an excellent opportunity to join a truly unique firm with a great company culture and fabulous rewards and benefits.
For further information and a confidential discussion, please contact Gemma Keogh-Peters at Project68 Asia
Send an email to gemma@proj68.com / EA Licence No: 16S8425