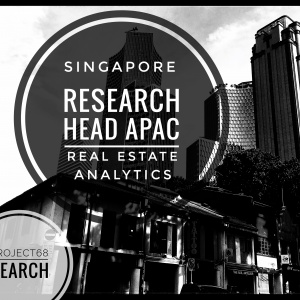 APAC Head of Research / Real Estate Analytics 
Singapore
Project68 is delighted to support our client as they look to hire a new Research Director for their APAC business. 
The Head of Research / Director of Analytics will be responsible for the development and delivery of all analytic output for real estate investment data for the Asia region.  
This role allows the freedom to develop market-leading interpretative analysis using a unique global dataset and as a key point of contact for clients, you will have the opportunity to develop a very visible industry profile through speaking engagements and media work across APAC.
About the Role
Reporting into the Exec MD based in London, from your base in Singapore, you will work with a global team.

 

You will take the lead on authoring quarterly reports. Be a key influence in the design and content of these publications, to meet the needs of APAC based clients (and a wider global client group interested in regional trends), whilst taking editorial input from other senior members of the team as appropriate.
Develop analytics to help clients understand the impact of identified market trends. Drawing upon resources within the wider Analytics team, you will take the lead in developing new analytics approaches to better explain trends within the APAC reports.
Develop and maintain relationships with clients. Working with the APAC Account Director, you will help clients navigate the product and where necessary provide additional analytical support for clients, as well as developing relevant trend presentations for clients to a schedule managed by the Account Director.
Work with the MD APAC, Sales & Account Directors, in a pursuit of continuous development of client briefings, ensuring materials are topical and tailored to the audience needs.
Support the wider global client group interested in the APAC region, offering your expertise.
Work closely with the Global Head of Research and the APAC Research team to assist them in identifying and improving regional data.

 

Providing thought-leadership insight / analysis / datasets to open doors for the sales and account management team.
Key representative at conferences and trade shows. Leveraging speaking opportunities at relevant APAC-related events.
Continue the strong relationship with APAC associations and Singapore based PR agents to build the brand across the region.
Working as a team across several functional heads and other regional specialists such as account management, sales and research, this role truly offers the chance to become a recognised thought-leader across the real estate investment industry in APAC. Experienced real estate research specialists are invited to apply for this excellent opportunity with a global market leader.
**** We regret this role is currently on hold owing to the COVID-19 situation.
For a confidential discussion or to apply directly please email Gemma Keogh-Peters / Project68 Asia Pte Ltd / EA Licence 16S8425 / gemma@proj68.com